Commercial Fabricators
Steel Fabricators of Newton, North Carolina
Facilities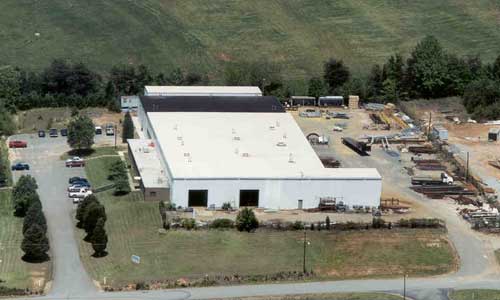 We are located in Newton, North Carolina at the foothills of the Blue Ridge Mountains and are approximately 60 miles northwest of Charlotte, North Carolina. Our plant is situated on ten acres of land which houses our 25,000 square foot manufacturing facility, a 9,600 square foot paint building and our offices. Click here for directions.
Business classification
We are classified with North American Industry Classification System (NAICS) under code 332323 as "Sheet Metal Work Manufacturing" and code 332322 as "Ornamental and Architectural Metal Work Manufacturing".
History
May 8, 1962 our company was incorporated. On May 31, 1962 we succeeded as a business partnership operated as Carolina Steel Fabricating and Erection Company. Our shareholders changed the company name to Commercial Fabricators, Inc. on February 5, 1968. On November 11, 1977 the company was purchased by Continental Conveyor and Equipment Company, in Winfield, Alabama. On July 21, 1978 Continental Conveyors, Inc. together with it's subsidiary, Commercial Fabricators, Inc., merged with the B.F. Goodrich Company in Akron, Ohio. March 11, 1981 a new company was incorporated and the assets and liabilities of Commercial Fabricators, Inc. was purchased by Commercial Fabricators of North Carolina, Incorporated. March 16, 1981 the company was amended to Commercial Fabricators Incorporated. February 23, 2005, Richard Tucker purchased shares of company stock from longtime owner Christopher Wiley making him majority owner.
Richard Tucker, President

Richard Tucker first began working for Commercial Fabricators in 1972 as a painter and a truck driver, after serving our country with the United States Navy. Richard has worked his way to the top as President of the company, a position in which he has held since 1991. He is a proud Native American Indian, which impacts the business positively as a minority business.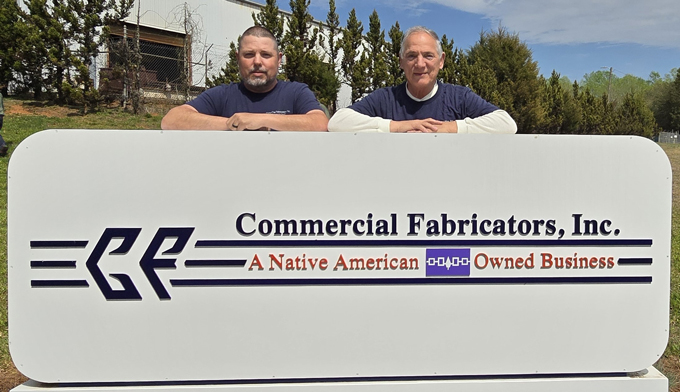 Commercial Fabricators has attributed it's success to the commitment to excellence, expertise in our craft, and the hard work and dedication of our longtime employees. In every job, Commercial Fabricators strives to prove that minority owned companies are dependable and valuable subcontracting partners. The company has earned a reputation in the industry for excellence and expertise in our craft, and that is reflected in the number of repeat customers we provide our products to.
In 2005, John Tucker, Richard's son joined the Commercial Fabricators team as a truck driver. Over the past 16 years, John has worked as a fabricator in our shop, Shop Superintendent and Project Manager. Currently, he is the Vice-President of Commercial Fabricators and manages all aspects of the business.